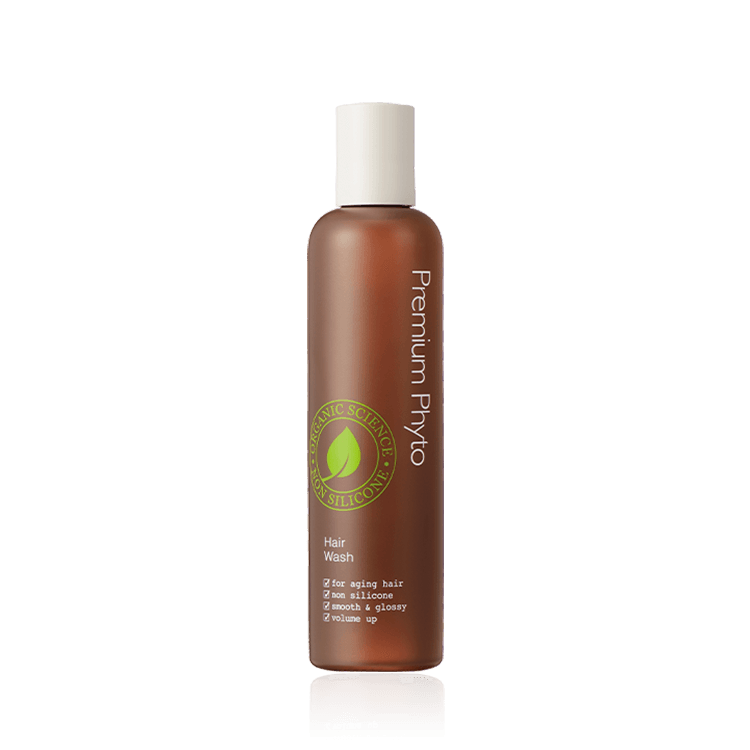 Dense foam shampoo to wash clean scalp. Resets scalp stiffness and pore clogging.
With phytochemicals Rich organic certified essential oils, phytopolyamines, and GF peptide "PB4" energize the scalp while removing dirt and hair styling products from pores with dense foam.
It prepares a clean scalp and supports the growth of firm and healthy hair.
Capacity: 260 mL
Hair care
Scalp care
Aging care just by shampooing! To the scalp environment that nurtures beautiful hair

Dense foam with plenty of beauty ingredients cleans pores and hair styling products. It prepares a clean scalp environment and supports the growth of healthy hair with volume from the root.

It has excellent detergency that does not require washing twice, but is gentle on the scalp and has a smooth finish without squeaks.

"Organic science prescription" that combines plant science and advanced hair science

Premium Phyto, which pursues the true beauty of adult hair and scalp, is an unprecedented organic science hair care product.

A fusion of two sciences, phytochemicals backed by plant science and chemical care demonstrated by advanced hair science.

Condition the "scalp", which is the source of rich hair that rises firmly from the root.

Essence ingredient

Phytoscience ingredients

Organic certified essential oils

Carefully selected and blended organic certified essential oils that are rich in the useful ingredient "phytochemicals". It energizes the scalp with reduced energy, supports the growth and maintenance of firm, firm, and rich hair, and releases the mind and body with the finest aroma that gives energy to the inside of the mind.

The power of essential oils used in phytotherapy: Essential oils are organic compounds made up of the natural chemicals "phytochemicals" that exist in plants. Its power is condensed hundreds to thousands of times as it is in nature.

Phytopolymian

A naturally derived component containing a high concentration of the signaling substance "polyamine" that is deeply involved in cell division and protein biosynthesis of all living organisms such as animals and plants.

Pueraria mirifica extract

Puerarin, a derivative of isoflavone known as a female hormone-like substance, keeps the scalp healthy.

Ginger extract

Extracted from ginger, which is attracting attention for its ability to enhance the circulation of the body. Contains useful ingredients such as "gingerol".

Phytoscience ingredients

Thymosin β4-like GF peptide "PB4"

Focusing on "hair root stem cells", which is attracting attention as the latest approach in hair growth treatment. The GF peptide component developed by researching the function of "thymosin β4", a type of GF (growth factor) that promotes activation, keeps the youth of the hair matrix cells that are the basis of hair production, and makes the hair rich and healthy. Supports growth.

What are hair root stem cells? :

What are hair root stem cells? :

Stem cells are mother cells that are the source of all cells. Hair root stem cells, which are the starting point of hair, are known to exist in the "bulge region" of hair follicles and have the ability to regenerate all skin-related organs such as the epidermis, sweat glands, and sebaceous glands, as well as the hair. increase.

Support ingredient

Super hyaluronic acid, ceramide

Keeps dry hair and scalp moist.

Carbonization extract

Approaches the odor of the scalp caused by sweat and sebum. Keep it refreshing.

Even though it is hypoallergenic, it is refreshing once washed!

Based on an amino acid-based cleansing ingredient that gently cleanses the hair and scalp, it has achieved excellent cleansing power that does not require washing twice even though it is mild.
Good usage
Use it before or after applying foundation. Apply a small amount of tip to the part you want to cover, such as spots and bears, and gently apply it to your skin with your fingers.
1. Lightly brush before shampoo to remove dirt and dust.
2. Moisten the hair from the skin to the tips of the hair with lukewarm water.
3. Take an appropriate amount and whisk it well while blending it into the entire hair.
4. While moving your fingers in a zigzag manner from the top of your ears to the top of your head, wash the entire scalp evenly, including the neckline and hairline,
with 3 to 5 round trips as a guide.
* The etymology of "shampoo" is Hindi, which means massage. Massage to move the scalp with the pad of the finger in close contact without raising the nails.
5. Rinse thoroughly until there is no null.
Usage
4 to 5 pushes per use When used once a day, for about 1.5 months * Depends on the usage status of the customer.
GF peptide "PB4", Phyto-Polyamine, Three organic essential oils certified by Ecocert (Geranium, Rosemary, Lavender), Super Hyaluronic acid, Ceramide, Ginger extract, Pueraria mirifica extract, Tea leaf dry distilled extract.