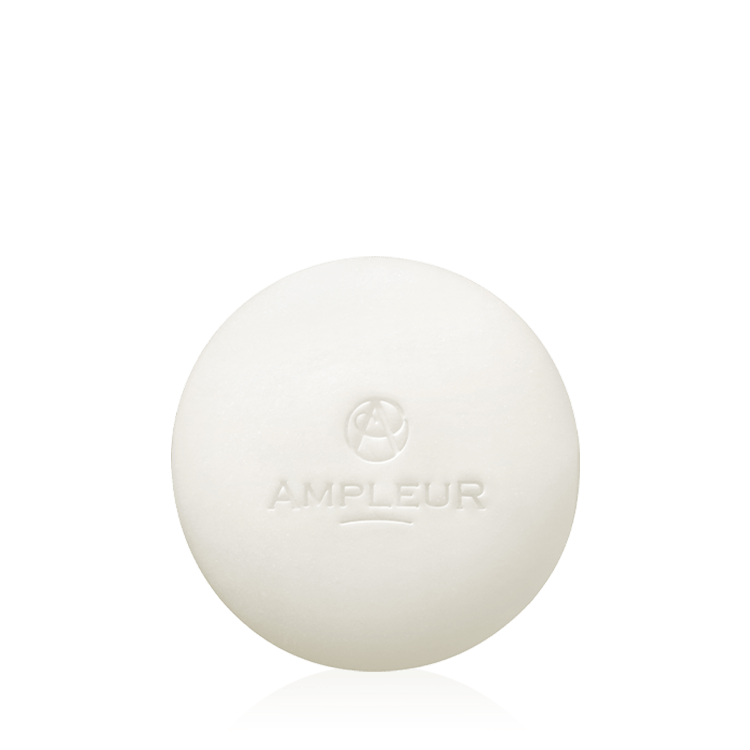 A keratin care soap for the face and body that approaches the causes of "dullness" and "stiffness" that hinder the impression of lively skin.
Dense and moist foam, it gently removes dead skin cells adheres to every corner of the texture and pores, and just by washing with this soap can nurtures bright and shining makeup skin.
Capacity: 80g
Dullness skin
Disordered texture
AMPLEUR's original "fermented whip peeling prescription"

To achieve the keratin clearing effect of "peeling" safely and easily in daily home care. Natural proteolytic enzymes and lactic acid produced by fermentation soften old keratin containing melanin, which causes dullness, and reset it to clear skin. It is recommended not only for the face but also for the body.

< Keratin clearing effect >

Blend of 3 fermented liquids:

Bacillus fermented product
Yogurt liquid
Chardonnay juice fermented liquid

Promotion of turnover

Yeast extract

"Supporting ingredients" that provide firmness, luster, and transparency

The hydroquinone derivative leads to brighter skin, and the adsorptive hyaluronic acid and ceramide keep the skin moisturized even after it has been washed away. Vitamin C, placenta and other no-makeup skin-beautifying ingredients nurture a healthy firmness, luster and transparency.

Support ingredient

Brightening ingredient

No makeup skin ingredients

Moisturizing / barrier function support ingredient

Hydroquinone derivative

Stable Vitamin C Derivatives / Vitamin A, B6 / Coenzyme Q10 / α-Lipoic Acid / Placenta Extract

Adsorption type hyaluronic acid, ceramide complex (ceramide 1, 3, 6II), polyglutamic acid

"Dense moist foam" that cleans smoothly.

With our unique high foaming formula, you can create a moist and dense foam that looks like meringue just by whipping it quickly. This "dense moist foam" adheres to the texture and every corner of the pores, adsorbing all of dirt. It acts as a soft cushion between the palm and face to protect the bare skin from rubbing and wash it smoothly and smoothly.
Good usage
Wet the entire face and then lather with the palm of your hand. Gently wash your face with foam and rinse thoroughly. You can also use it on the body.
5 second foam pack
A "5-second foam pack" that leads to bright, smooth skin without worrying about dullness, stiffness, or roughness due to hyperkeratosis. When washing your face, before rinse it off, taking a breath before rinsing enhances keratin softening and dirt adsorption effect. Avoid the area around the eyes and mouth, apply foam to the entire face and pack for 5 seconds. Then, rinse it off.
Bacillus fermented product, Yoghurt liquid, Chardonary juice fermented liquid, yeast extract, hydroquinone derivative (Arbutin), Stable Vitamin C Derivatives, Vitamin A, Vitamin B6, Coenzyme Q10, α-Lipoic Acid, Placenta Extract, Adsorption type Hyaluronic Acid, Ceramide Complex (Ceramide 1, 3, 6II), Polyglutamic Acid.