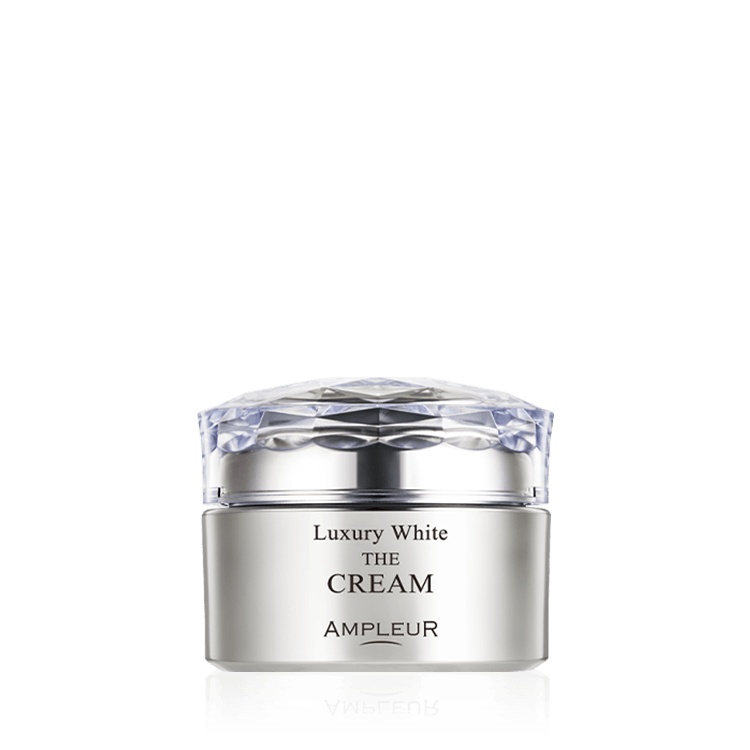 The latest science AMPLEUR that is innovative, high-performance cream that brings together the best of 16 years of beauty skin research. For luxurious bare skin full of clear shine and firmness.
Condensing advanced functional ingredients and beauty treatment ingredients carefully selected from all over the world , we approach all of the transparency, gloss, firmness, smoothness, and moisture that adult skin wants from various angles. It brings a clear shine that shines from each texture and a feeling of happiness.
Capacity: 50 g
Dullness skin
Dryness skin
Lack of tension
The strongest of Japan's first combination "Hybrid Peptide White" and "New Stable Hydroquinone"

Disordered texture due to dryness deprives the skin of shine and makes the expression cloudy. "Hybrid Peptide White" for skin-beautifying mechanism, gives moisture and leads to firm and glossy skin with a multifaceted approach.

In addition, moisturizing and skin conditioning ingredients support the beauty process. Boost up the response of clear transparency without a single point of cloudiness.

Ingredients

Japan's first hybrid peptide white (skin conditioning)

"Hybrid Peptide White * 3 " is a completely new next-generation hybrid that combines the well-established control ingredient "Meralminus Peptide * 3" in "Luxury White Melalminus" with the phytochemical "ferulic acid * 3 " that exists in plants. It is a peptide component.

New stable hydroquinone (antioxidant component of products)

Stabilizes hydroquinone, which is also present in plants such as strawberries. Protects against the effects of light, heat and oxygen.

Ethyl linoleate (skin conditioning)

Adjusts the texture disorder caused by drying and boosts the transparency.

Condensed luxurious beauty treatment ingredients and advanced functional ingredients

From all over the world , including Yang Guifei and Cleopatra, the rare swiftlet nest "Enka", which has been loved by women pursuing beauty since ancient times, pearl extract, penetrating collagen, and placenta extract. Condensed luxurious beauty treatment ingredients carefully selected.

Other ingredients

Elasticity / elasticity (tension care)

Osmotic collagen, placenta extract, phytopolyamine

Health (skin conditioning)

Chestnut Termin Dicum Extract, Vitamin E

Emollient (moisturizer)

Shea butter, squalane

Precious pink and rich cream

The rich cream of precious pink melts into every corner of the skin at the moment it touches the skin, leading to smooth skin as if wearing the finest silk veil.

Luxury white scent, elegant and gentle.

A scent based on chamomile. Unravel your mind and feel rich and happy every time you use it. To give gloss to the skin and make it smooth. Moisturizing and conditioning ingredients due to dryness and irregular texture on to the stratum corneum. Beautiful skin of the Luxury White series theory.

Hybrid Peptide White = Ferroyl Oligopeptide-33, New Stable Hydroquinone = Hydroquinone, Cetalconium Chloride, Swallowtail Extract = Hydrolyzed Swallowtail Extract, Pearl Extract = Hydrolyzed Conchiolin, Ormesia = Kudamonotokeisou Fruit Extract, Penetration Type Collagen = hydrolyzed collagen, Phytopolyamine = Soybean bud extract, Vitamin E = tocopherol, Shea butter.
How to use
Use it for daily (night care). After conditioning your skin with lotion or serum, take an appropriate amount with the attached spatula and pull it up from the center to the outside and from the bottom to the top from the entire face to the neck. Please familiarize yourself. Approximately 3 to 3.5 months for nightly use.
New stabilized hydroquinone, Japan's first hybrid peptide white, Ethyl linoleate, Swiftlet nest extract, Pearl extract, Kudamonotokeisou fruit extraxt, Penetrating collagen, Placenta extract, Phytopolyamine, Chrysanthemum indicum extract, Vitamin E, Shea butter, Squalane, Hydrolyzed swallowtail extract, Hydrolyzed conchiolin, Soybean bud extract.