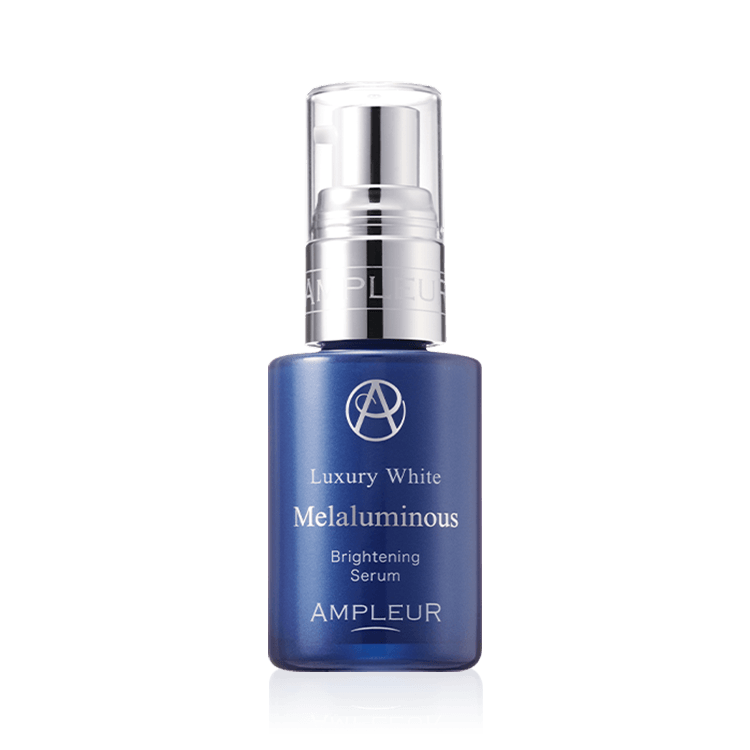 True transparency for age skin. "White" beauty essence that leads to bright and radiant skin
Capacity: 30mL
Essence
Dullness
Dry
The Strongest of "New Stable Hydroquinone" and "Meralminous Peptide".

For healthy, bright and radiant skin.
The two unique ingredients that AMPLEUR is proud of work synergistically to maximize its power.

New stable hydroquinone and Meralminous peptide work in double.

The strongest of AMPLEUR that nurtures the beautiful skin of the future. The meralminous peptide that brightens the impression of the skin raises the power of the new stable hydroquinone that works on the points of the skin.

Clearing Future Worries.

A total approach to all-envelopment skin care texture, firmness, and luster.

What is needed for adult skin, which does not easily feel the "brightness" response, is a complex approach that goes beyond the framework of skin color care.

AMPLEUR carefully selects skin-beautifying ingredients that firmly grasping skin problems that appear with age and anxiety about future skin.

We have completed all-envelopment skin care that works on the skin stress that hinders the brightness and firmness and luster that progresses with age, and brings beauty that shines from the inside.

Milky & Smooth Texture

Gives a moist and gentle feeling that is on the irritating skin.

You can use it every day in the morning, at night, and regardless of the season. The milky and smooth texture spreads smoothly, filling the skin plumply and smoothing the texture, giving it a clear glow and brightness that shines from the inside.

Wrapped in a gentle scent based on chamomile, a moment of healing that makes you feel happy. Every time you take care of your skin, it will not only moisturize your skin but also your heart.
Water, isononyl isononanoate, DPG, cyclomethicone, squalane, PEG-15 glyceryl isostearate, stearic acid, glyceryl stearate (SE), PEG-5 glyceryl stearate, PEG / PPG-25 / 30 copolymer, (C13,14 ) Isoparaffin, carbomer, caprylyl glycol, PEG-12 dimethicone, tocopherol acetate, glycyrrhizic acid 2K, PCA octyldodecyl, BG, arginine,