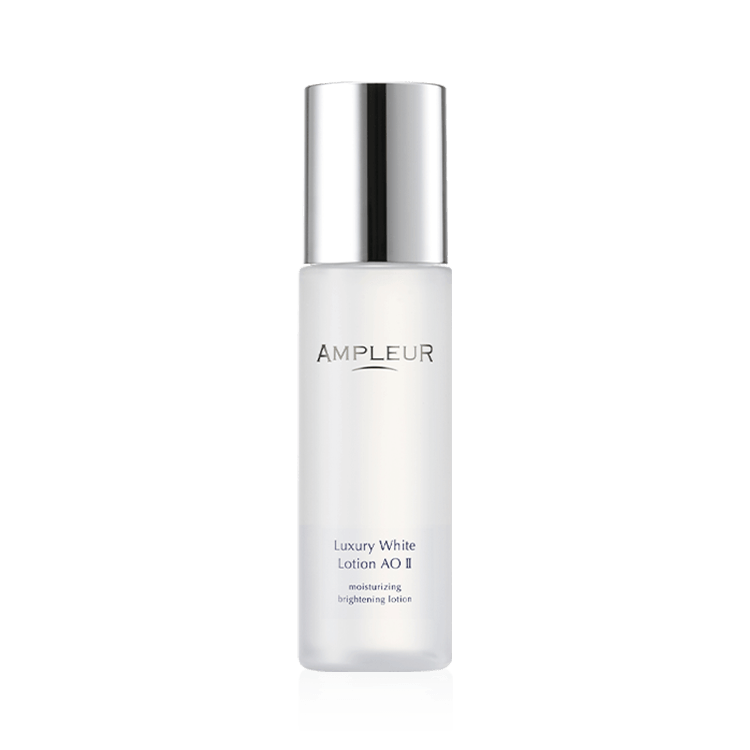 Remarkably clear transparency. High penetration white lotion
Capacity: 120mL
Tenor
Spots
Dulness
Dry
With "New stable hydroquinone" that brings out clear beauty to the skin.

Moisturizing lotion contains unique New Stable Hydroquinone is attracting attention as an ingredient that leads to beautiful bare skin.

It gently penetrates the skin and brings out a clear beauty.

Further Power Up The Function of Hydroquinone with "AO capsule" !

AMPLEUR original ingredient that encloses four excellent ingredients that approach beautiful skin in nano-sized capsules. For healthy skin that regulates the disorder of the skin cycle and keeps worries away. In addition, AO capsule can protects the "New Stable Hydroquinone" from oxidation and firmly supports its performance.

Role of AO capsule

Work 1: Protection of new stable hydroquinone.
Work 2: Makes the skin cycle healthy.

Contains "Triple Ceramide" That Raises The Condition of The Skin Filled With Moisture & Firmness.

Thick texture penetrates into the stratum corneum, gives good skin compatibility & excellent moisturizing power. Three types of ceramides that are well-adapted to the skin draw moisture into the skin and deliver beauty ingredients to every corner.

For smooth skin that keeps skin stress such as dryness away.

Shut out skin stress.

It fills the stratum corneum with moisture by fortifying and blending ceramide that stores water inside the skin. Fosters skin strength that is not shaken by dryness or external stimuli.

Thick Lotion That Is Rich But Fresh.

The best-balanced thick lotion that can be used comfortably not only in spring and summer but also in autumn and winter when it tends to dry.

It instantly penetrates into the stratum corneum, and the rich moisture spreads throughout the skin, creating a base where skin care is effective.

A gentle scent based on chamomile. Every time you take care of your skin, it will not only moisturize your skin but also your heart.
Water, isononyl isononanoate, DPG, cyclomethicone, squalane, PEG-15 glyceryl isostearate, stearic acid, glyceryl stearate (SE), PEG-5 glyceryl stearate, PEG / PPG-25 / 30 copolymer, (C13,14 ) Isoparaffin, carbomer, caprylyl glycol, PEG-12 dimethicone, tocopherol acetate, glycyrrhizic acid 2K, PCA octyldodecyl, BG, arginine,