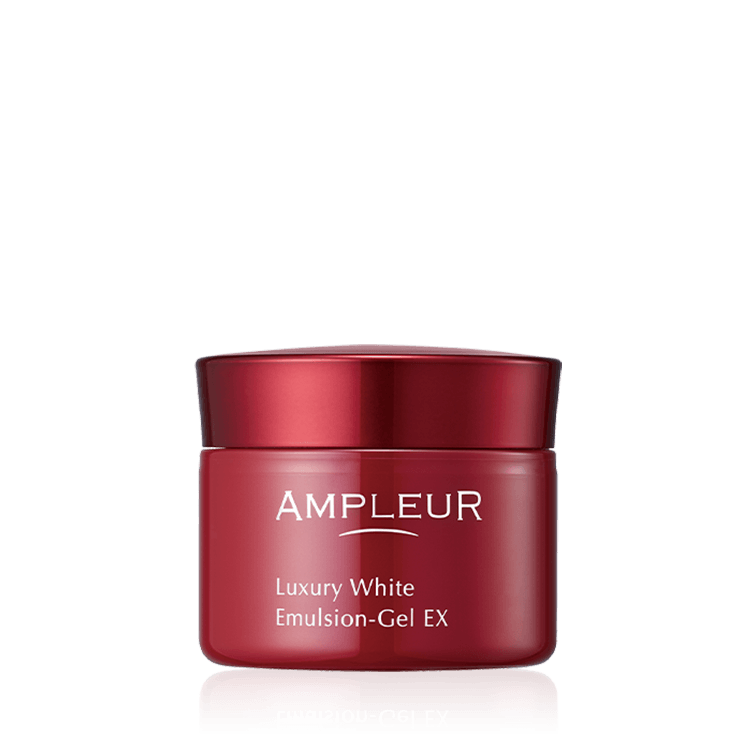 Full of moisture, non-stop. To the ultimate "clean skin" that shines. With the effect of a skin-beautifying cocktail that circulates vibrant energy to the skin lacking vitality and a "water retention mask" that holds fresh moisture, it brings out a feeling of firmness, luster and transparency.
Keeps your skin moisturized and upwards, which is familiar to your skin while giving it a rich feel. The more you use it, the more you will get a smooth and beautiful skin.
Capacity: 50g
Dullness skin
Dryness skin
Lack of tension
The Energy of Beauty Begins to Circulate!

AMPLEUR's original "Cosmetological emulsion gel" with 3 effects are condensed tightly! "Beauty essence + milky lotion + gel".

A unique formula that condenses the activating effect of beauty essence, the softening effect of milky lotion, and the water injection effect of gel.

Both water-soluble and oil-soluble ingredients can be dissolved, and luxurious beauty ingredients are delivered to the required parts at the right time.

1. Essence ingredient (active effect)

For firm, elastic and lively skin

2. Emulsion component (softening effect)

Keeps soft and fluffy skin

3. Gel component (water injection effect)

Gives fresh moisture

The Secret of "Emulsion Gel EX" That Gives A Feeling of Elasticity, Luster & Transparency

Secret 1. Keeps moisture with the water retention mask effect! "Rich Moist Veil"

Creates an invisible water-retaining film on the surface of the skin to hold moisture and keep it firmly. It constantly fills dry skin with rich moisture.

Secret 2. "Beautiful skin cocktail" that improves skin energy and is the source of beauty.

Ingredient cocktail, which is the energy of beauty, is directly injected into the skin like a beautiful skin drip. It rejuvenates the vibrant skin as if each of the sleeping cells came back to life.

Secret 3. Instantly pin! Increased feeling of tension! Contains "Sesalift".

The protein component derived from sesame forms a lift film that is invisible on the skin surface. Dramatically lifts loose skin and gives a youthful and bouncy skin.

Familiar with melting and keeps amazing moisturizing power!

Although it looks like a cream, it has a fresh texture that melts into the skin. With the best balance of water and oil, it demonstrates full moisturizing power.

A refreshing gel is not enough, but the moist cream is sticky, it is also recommended for such people.

A Luxurious Treatment Prescription With 96% Beauty Essence Ingredients.
Multi-use for adult skin problems that increase with age (dryness, lack of firmness, dullness).
I want to take care of all of brightening, aging and moisturizing! We have carefully selected and blended luxurious beauty essence ingredients to deal with such greedy adult skin problems.
Brightening (Moisturizing / conditioning)
Hydroquinone derivative
Arbutin, a hydroquinone derivative that leads to bright and fresh skin. Arbutin is also found in plants such as bilberries, manzanitas and pears.
Aging Care
Plant stem cells (apple cell extract)
An extract obtained by culturing stem cells taken from an endangered Swiss apple. Since it has the property of being less prone to swelling for a long period of time than other varieties of apples, repeated research revealed that its stem cells are characteristic.
Nutrients called epigenetic factors protect youthful skin like apples that never lose their freshness.
Superfruit 7 Acerola, passion fruit, strawberry, tomato, camu camu, pomegranate, rosehip
A blend of 7 kinds of red fruits carefully selected for youthful elasticity, luster and transparency.
The colorful fruits that seem to be healthy just by looking at them are rich in phytochemicals such as polyphenols and carotene, various vitamins and minerals, and protect fresh and fresh skin from damage caused by ultraviolet rays and various stresses.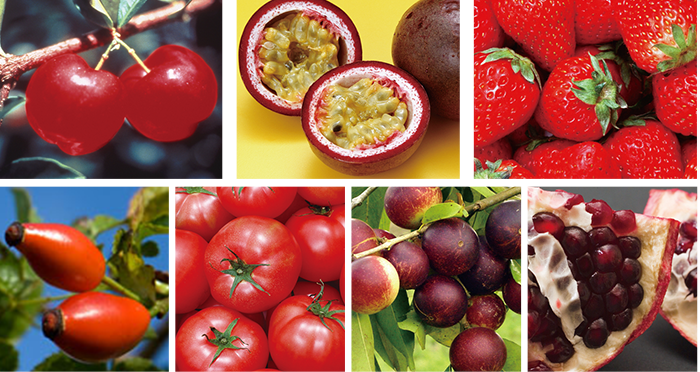 Moisturizing and water retention
Sesalift
Aging care A protein component derived from sesame seeds. It forms an invisible lift film on the surface of the skin and physically lifts up irregularities such as wrinkles and firmness. Keeps the pin and smooth state for a long time.
Rich Moist Veil
It forms an invisible water-retaining film on the surface of the skin and keeps it moisturized. It also restores the barrier function and holds moisture firmly to increase the moisturizing power of the stratum corneum.
Ceramide capsule type hyaluronic acid
Hyaluronic anhydride encapsulated in nano-sized capsules made of ceramide penetrates into the stratum corneum. Hyaluronic acid released from the capsule holds 1000 times more water than itself like a gel, and the capsule component ceramide repairs the skin barrier. It retains the firmness and moisture that springs up from the inside.
Shea butter
It is obtained from the seeds of the tree "shea", which is widely distributed in Central Africa. A natural moisturizing cream that has been loved by African women who are exposed to intense UV rays and have an excellent effect of protecting the skin from dryness.
Squalene
An emollient ingredient that stabilizes "squalene," which is also contained in human sebum. It naturally blends into the skin and softens it, protecting it from dryness.
Demonstrated With Data!, Moisturizing Skin Report.
Hydroquinone Derivatives, Plan Stem Cells (Apple Cell Extract), Superfruit 7 (Acerola, Passion Fruit, Strawberry, Tomato, Camu Camu, Pomegranate, Rosehip), Sesalift, Rich Moist Veil, Ceramide Capsule Type Hyaluronic Acid, Shea Butter, Squalane.