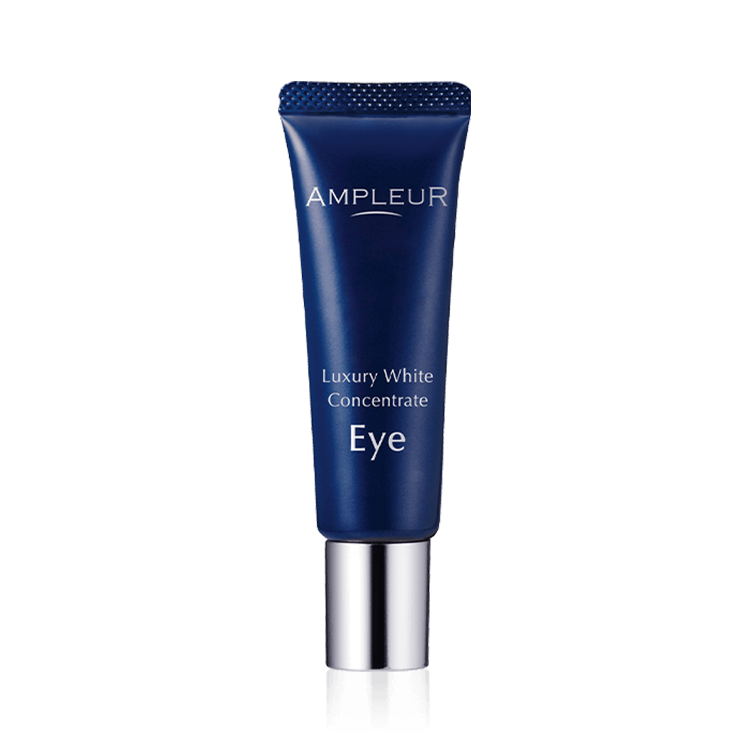 Color bear intensive eye care serum that leads to a bright and transparent look. Color bear intensive eye care serum that leads to a bright and transparent look.
Through care for skin problems around the eyes area of adults that lose of their youthfulness skin.
Skin care ingredients such as new stable hydroquinone work on the eye zone, which tends to become dull with age, and approach the eyes with a bright impression. Gives fresh moisture and leads to clear and youthful eyes.
Capacity: 18g
Dullness skin
Dryness skin
Lack of tension
Point special care
Impression Age Around The Eyes 10 Years Younger!

What is the reason for casting a dark shadow on the eyes of adults?

For people like this

I can't get rid of the shadow around my eyes even if I cleanse it well
I slept a lot, but I was told "Are you tired?"
Does it look like you're wearing eyeshadow without makeup?
A concealer for the upper and lower eyelids is absolutely indispensable!
Pastel eyeshadow does not develop beautifully

Very delicate zone with thin skin around the eyes. It will also be damaged by eye makeup, rubbing during cleansing, and blinking.

For those worries around the eyes, use a beauty essence that protects the upper and lower eyelids and the outer corners of the eyes. It works on troubles that you are worried about and responds firmly to the worries around your eyes.

"Hydroquinone Eye Care" is finally here!

Radical Care For Upper & Lower Eyelid Problems With Hydroquinone.

Eyes that determine a person's first impression. The bright and transparent eyes rejuvenate the impression age.

As we get older, problems related to "color" such as making the upper and lower eyelids look dark in addition to dryness become more likely to surface in the eye zone where the skin is the thinnest in the face.

In AMPLEUR, we pay particular attention to the impression of the upper and lower eyelids. Brings brightness to worries triggered by friction, rashes and UV damage.

Block Eye Zone Worry From The Ground Up!

New stable hydroquinone is attracting attention as an ingredient that leads to beautiful bare skin. Hydroquinone is sensitive to heat and light, is extremely unstable, and is difficult to handle. "New stable hydroquinone" is a new type of molecular complex crystal formed by synthesizing this conventional hydroquinone and the substance "BCDAC" that stabilizes it.

While maintaining the characteristics of the ingredients, it is less likely to oxidize than conventional hydroquinone, and is resistant to humidity and heat. In other words, it is much more stable and less irritating to the skin.

Hydroquinone derivative

Hydroquinone derivatives contained in plants such as cowberries are adjusted in a unique balance for delicate eyes. Double work with the new stable hydroquinone.

TGP2

A type of peptide that works on damage such as drying caused by ultraviolet rays and leads to healthy eyes.

Moisturizing

Fast-acting vitamin C derivatives

Gives fresh moisture faster than traditional vitamin C derivatives.

Osmotic collagen

Collagen hydrolyzed to a minimum molecular weight of 280. Brings plump firmness to dry and deflated eyes.

Ceramide capsule type hyaluronic acid

Hyaluronic anhydride encapsulated in nano-sized capsules made of ceramide penetrates deep into the stratum corneum. Hyaluronic acid released from the capsule holds 1000 times more water than its own, and retains the firmness and moisture that springs up from the inside.

Muscle

Walteria Indica Leaf Extract

An extract extracted from the leaves of the "Walteria Indica" plant of the genus Himekobanno, which has been used since ancient times in Guiana, South America.

Combined with ferulic acid, gluconic acid, citric acid, etc., it leads to bright skin.

Allantoin

It cares for damaged skin and suppresses irritation caused by other substances.

Bisabolol

In addition to aromatherapy, it is the main component of chamomile (chamomile), which has been used in the private sector for a long time in Europe.

Refreshing Icon Complex

(Haloxyl, Vitamin E, Caffeine, Chrysanthemum Indicum Extract) Contains ingredients that keep the eyes youthful and energetic. Aligns the skin cycle and brings out firmness and luster.

Moisturizing Gel Essence

A gel essence with plenty of moisture that softens the eyes that tend to be dry and enhances the penetration of items that will be used later. It has a fresh feel that is familiar and non-greasy.

Serum Responding To All Types of Discoloration That Casts a Dark Shadow Around Adult Eyes

Support for blemish discoloration (brown discoloration) that caused by pigmentation
Support for blood discoloration (blue discoloration) that caused by poor blood circulation
Support for sagging discoloration (black discoloration) that caused by poor blood circulation
New Stabilized Hydroquinone, Hydroquinone Derivatives, TGP2, Fast-Acting Vitamin C Derivatives, Penetrating Collagen, Ceramide Capsule Type Hyaluronic Acid, Walteria Indica Leaf Extract, Allantoin, Bisabolol, Refreshing Icon Complex (Haloxyl, Vitamin E, Caffeine, Chrysanthemum Indicum Extract).