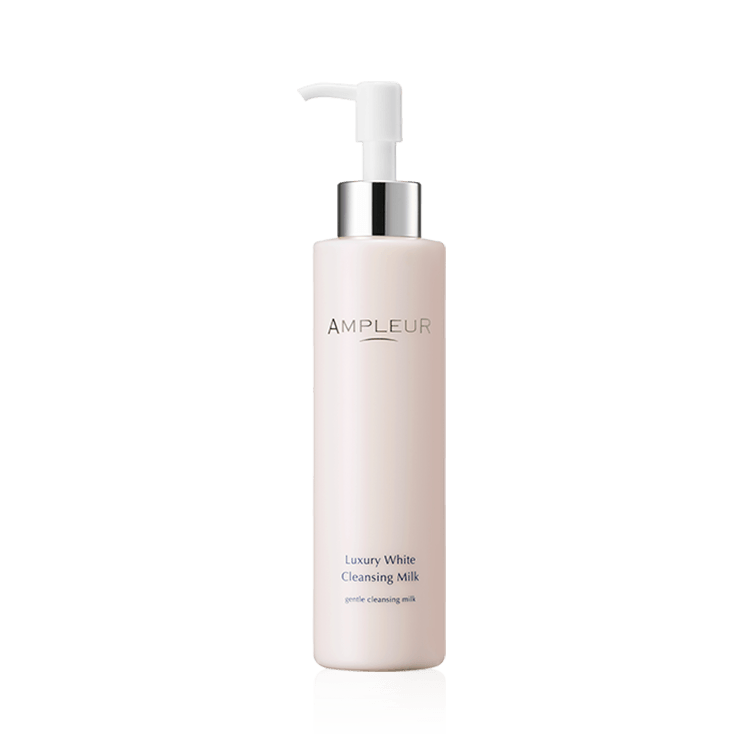 Rich cleansing milk that gently entangles
makeup and dullness
Capacity: 200mL
Cleansing / face washing
Dullness
Dry
Firmly removes dirt and old keratin with thick milk

It is a milk-type cleansing that melts and melts just by lightly blending, and removes dirt and air pollutants in the back of pores while firmly floating makeup.

Richly blended with beauty essence ingredients such as osmotic collagen and squalane. PCA Octildo Decyl lifts dirt and at the same time supports the barrier function of dry skin.

Supports damage resetting power that declines with age

AP shield that protects the skin from air pollutants

When air pollutants such as exhaust gas, PM2.5, and cigarette smoke adhere to the surface of the skin, active oxygen is generated, accelerating skin aging.

"AP Shield" forms an invisible protective film every time you cleanse. It improves the barrier function of the skin and keeps the risk of skin aging (pollutants) away.

Moringa oleifera seed extract

A peptide extracted from the seeds of the tropical plant "Moringa (Drumstick tree)". It has been used as a cosmetic and medicine since ancient times, and crushed seeds have an excellent purifying effect and are used to purify turbid water in rivers into drinking water.

Arge extract

An extract extracted from several types of seaweed. It has been confirmed that it has the effect of reducing the risk of mutagenicity (the property of damaging genes and causing mutations) of exhaust gas, which causes skin aging.

Firmly off air pollutants

Compare the detergency when using cleansing milk N and when applying fine particles of charcoal to the back of the hand and rinsing with water. Taken at 180x microscope image (according to AMPLEUR)

Thick milk type that does not burden the skin

A milk type that removes dirt but does not remove too much water and oil from the skin. The mellow and thick milk blends in well and gently removes makeup stains without straining the skin.

Firmly off air pollutants

The faint scent based on chamomile relaxes the skin and mind, and every time you use it, you feel rich and happy.

Characteristic ingredients

AO capsule (antioxidant ingredient)

Strengthens the resetting power of oxidative damage, which is the root cause of skin aging.

PCA octyldodecyl (barrier function support ingredient)

It promotes the synthesis of ceramide and strengthens the barrier function.

Hydroquinone derivative (whitening ingredient)

It leads to clear and bright skin.

Placenta extract / osmotic collagen / squalane (moisturizing ingredient)

It keeps the skin moisturized and makes it smooth and healthy.

Keep bright skin with special care once or twice a week

French cotton method

If you are concerned about the roughness or dullness of your skin, we recommend the French cotton method, which wipes off with wet cotton (cotton soaked in water and lightly squeezed) instead of rinsing. Cleans off old dead skin along with makeup stains. It wipes out dullness and roughness, and restores smooth and smooth skin with a sense of transparency.

Glide the wet wipe in one direction and wipe it off without exerting any force so as not to irritate the skin as much as possible.
Water, isononyl isononanoate, DPG, cyclomethicone, squalane, PEG-15 glyceryl isostearate, stearic acid, glyceryl stearate (SE), PEG-5 glyceryl stearate, PEG / PPG-25 / 30 copolymer, (C13,14 ) Isoparaffin, carbomer, caprylyl glycol, PEG-12 dimethicone, tocopherol acetate, glycyrrhizic acid 2K, PCA octyldodecyl, BG, arginine,